Supporting your program – and your coaches
We want to reinforce your coaches' philosophies and practices because we, as Olympians know that without the hard work from coaches throughout our entire career, grassroots to high performance, we would not be where we are today.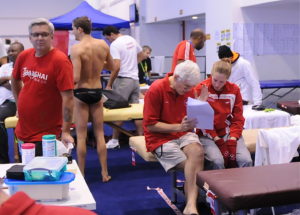 Coaches are trained to lead your child to their highest potential in sport. They build teams of confident, hardworking youth while focusing on the skills they will need to succeed not only in their athletic endeavours, but in life.
The Olympian/National Team athlete(NTA) role in Head to Head is to strengthen the coaches' messages, by being an external, credible source supporting their program

An initial meeting to establish these messages, the yearly plan and other details is included in the program offering, in order to ensure consistency

We are filling the gap that many coaches and programs face when their athletes begin to develop, and question what they're doing, why, and if it really is their best option
Together we can help keep more young people, especially girls, in sport.
In 'Martha's Canadian Drive' one of the most common themes from coaches was
"Wow, I've been telling my athletes that for years, but as soon as it came from you – it brought a whole new meaning to my swimmers"