The Mentorship Program –  Head to Head pairs an Olympian with a school or club for an annual mentorship program:
Olympian visits school / club
Initial Head to Head led conference call with school/club and Olympian to establish program goals, strategy and execution plan
Followed by ongoing communication to ensure consistent messaging
Personalized Educational Videos
Sample here – all videos provided with a video discussion guideline for coaches, teachers and parents to start a conversation with their athlete / student
Guided by the Head to Head Curriculum: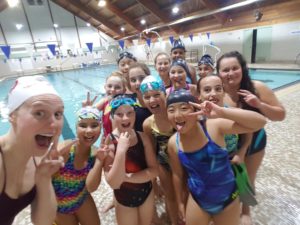 Goal Setting
Managing Nerves
Healthy Habits: nutrition, sleep (supported by Dr. Greg Wells)
Mindfulness
Time Management (balancing academics, athletics, social)
Resilience
Accountability
Team Culture
Active Recovery; stretching, massage, foam rolling etc.
Performance: strategy, pressure, performing in the moment, ideal performance state etc.
Ongoing E-mail Access
Olympian mentor will be available for email consultation for club/school, coaches, teachers, students athletes and more. 
Breaking down the in person visits
Through communication with the coach, athletic director and/or parent board each visit can be tailored to the club/school needs.
Examples and recommendation for Olympian visits:
1. Keynote speaker
Olympian addresses an audience (of any size) and is available for Q & A, autographs and photos. They'll also bring along any medals, Olympic memorabilia or other exciting materials for the audience to see and touch.
ex:
Banquet
Parent, Coaches, Support Staff Meeting
Athlete Orientation
Welcome BBQ / Event
Fundraiser/Dinner/Gala etc.
Swim-a-thon
Classroom Session
Olympian leads a smaller group session that hones in on a specific topic from the Head to Head curriculum (detailed above). These classroom sessions can be hosted for specific groups, ages, parents, coaches or other and will often include powerpoint decks, workbooks (to encourage engagement), videos, open discussions and Q & A.
Examples:
Group specific discussions
Coaches meeting
Parent gathering
Social Event
 Olympian attends an event with the goal of mingling with athletes, coaches, parents etc. in order to build connections and allow the athletes to get to know them as a regular person! Examples:
BBQ
Team Meal
School Tournament, Competition, Game
Alumni event
Sport specific session: On field of play
Olympian works with specific athletes on the field of play. They engage with the athletes through clinics, activities, exercise and demonstrations.
Examples:
Specific skill work (skill progression or breakdown, stroke specific work, sprint/distance work, turns, starts etc.)
Lead a warm up / warm down / circuit
Lead stretching session
Be part of team chat at practice or competition
In pool demonstration
Technical feedback
Deliver a session that a coach has prepared
Come prepared with own session to lead
Olympian is available for any other school/club specific events or opportunities that seem fit!
Examples:
Competition; feedback, pump up athletes before and/or after competing, cheer, build relationships, team spirit / support team
Special Events – Have Olympian kick it off, finish, chat with athletes before/after etc.
Team building trips, opportunities or specific club events
Interested?